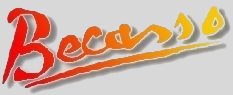 Sum Software brings you the premier commercial paint/imaging application for the BeOS® combining layers, multi level undo, unique powerful selection handling, orthogonal tool-set, and full alpha support. Not added as an afterthought, but right there since version 1.0. You can do professional, affordable graphics on the BeOS right now with Becasso - available from BeBits.com.

The Zeum, San Francisco's innovative new art and technology center for youth, have recently upgraded to version 2.0 of their hands-on multimedia creation lab. Using an entire software suite designed for this lab by Adamation, groups of young visitors use specialized versions of personalStudioTM, AudioElementsTM, and Becasso 1.5 to produce multimedia presentations around a given theme. These presentations are then web-cast. A detailed article about this technological feat was recently published in Byte.com.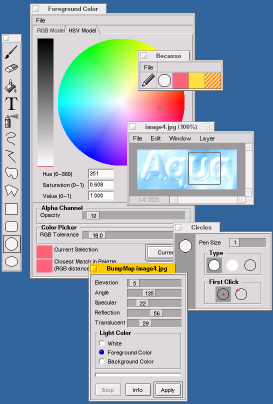 Becasso 2.3 is available now!

Becasso 2.3 adds extensive support for scripting. Filters can now be applied via scripts, filter parameters are persistent and can be set and queried via scripting.
Both x86 and PowerPC versions are available, and the PowerPC version is free! Check the Frequently Asked Questions (FAQ) for more information.
There is no separate demo version, meaning no large new download when you register, and no differences in the trial version apart from watermarking when printing and exporting. What's best - after registering (which costs only $29!), all the images saved in Becasso's native (layered) file format during your evaluation of the product can still be used, and when saved again from the unlocked version, the watermark is gone. So why don't you head over to BeBits.com today and check it out?
For more information about Becasso, there is also a list of Frequently Asked Questions (FAQ).

Other Sum Software products include Summon, the invaluable Tracker add-on to open a Terminal in the selected directory; Surgeon, the People replacement; Eve, two add-ons (an HTML email reader and an attachment viewer) for Adam, the discontinued email package by Adamation; and a port of Aladdin Ghostscript 7.00, a Postscript renderer which, when installed, will enable the EPS Translator included with Becasso to read (E)PS files for subsequent pixel editing in Becasso.